---
THE WORLD'S FIRST
ALL-ELECTRIC SUPERTRUCKS

GMC HUMMER EV PICKUP AND SUV

---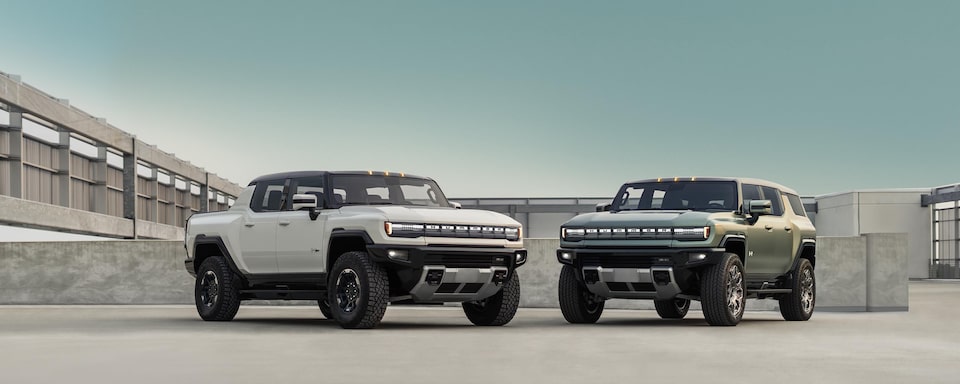 ---
AVAILABLE

CRABWALK

§



DRIVES DIAGONALLY

---
---
AVAILABLE

EXTRACT MODE

§



LIFTS APPROX. 6"

---
---
AVAILABLE

ULTRAVISION

§



WITH UNDERBODY CAMERAS

---
---
AVAILABLE

GM-ESTIMATED 560+ KM RANGE

§



CHARGE NEARLY 160 KM IN 10 MIN

§



---
---
CHOOSE YOUR SUPERTRUCK

---
The world is now the home of two revolutionary all-electric super trucks—the GMC HUMMER EV Pickup and the GMC HUMMER EV SUV.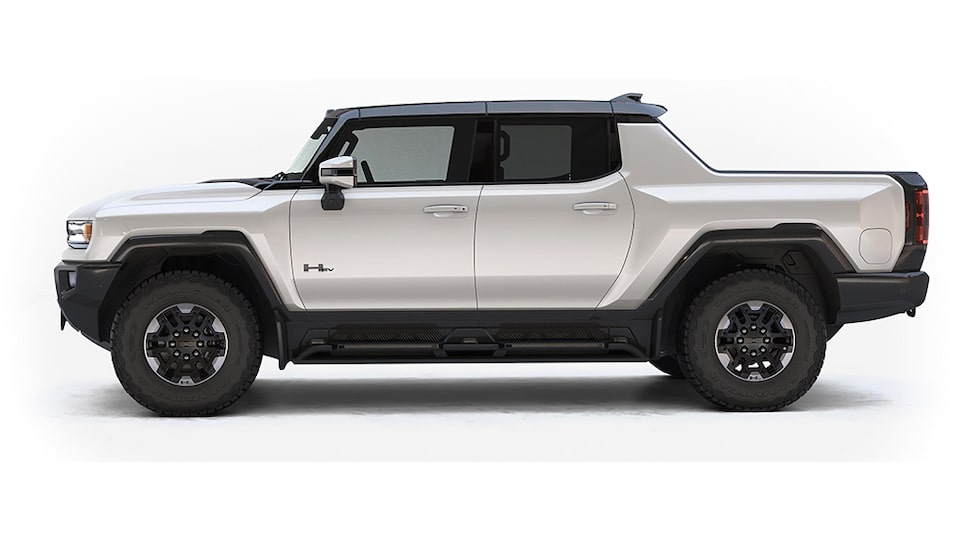 GMC HUMMER EV PICKUP

GMC HUMMER EV Pickup dominates terrain with revolutionary features and capabilities.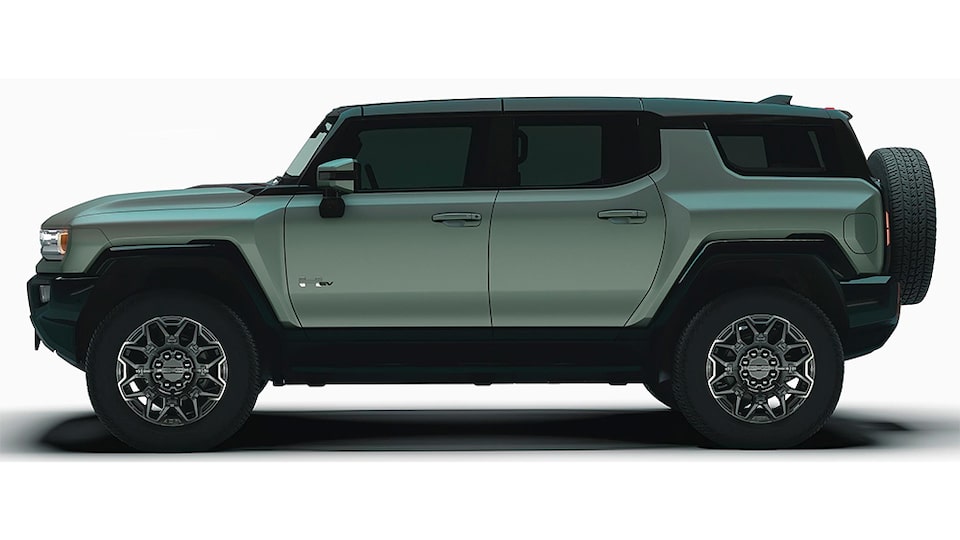 GMC HUMMER EV SUV
GMC HUMMER EV SUV combines many of the features of the pickup with the versatility of an SUV.

---
FULLY CHARGED. FULLY ELECTRIC. ZERO EMISSIONS. ZERO LIMITS. ZERO EQUALS.

---
---
AVAILABLE

1,000 HORSEPOWER

AND 15,591 NM OF TORQUE

§



---
---
---
---
AVAILABLE

WATTS TO FREEDOM

§



0-100 KM in approx. 3 seconds

§



---
---
---
---
AVAILABLE

INFINITY ROOF

WITH MODULAR SKY PANELS

---
---
---
---
THE QUIET REVOLUTION. PART TWO

As the world's first zero emissions, zero limits all-electric supertruck, the revolutionary HUMMER EV generates the power and technology to conquer nearly any terrain with extraordinary confidence. And now, meet the world's next all-electric supertruck—the revolutionary GMC HUMMER EV SUV. It combines the features of the pickup with the benefits of an SUV to earn its own supertruck status.

---
---
ULTRAVISION

Available UltraVision-with up to eighteen camera views§ including standard HD Surround Vision-includes waterproof underbody forward and rear facing cameras for real-time views of the terrain to help you pick the best line along the trail. A washer function and replaceable lens protectors helps you see clearly. Using multiple cameras to display a digital overhead image of the area around HUMMER EV, Surround Vision§ allows you to maneuver off road and navigate tight spaces when traveling at low speeds.

---
---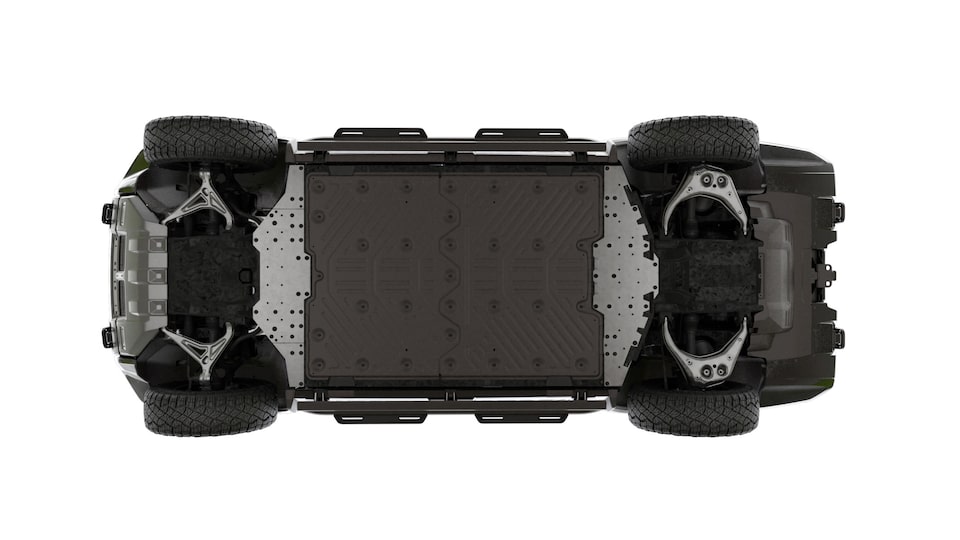 FULL UNDERBODY ARMOR
Utilizing sturdy steel plates and shields around the differential and battery pack, available full underbody armor§, skid plates and rock sliders help protect HUMMER EV in extreme off-roading environments.

---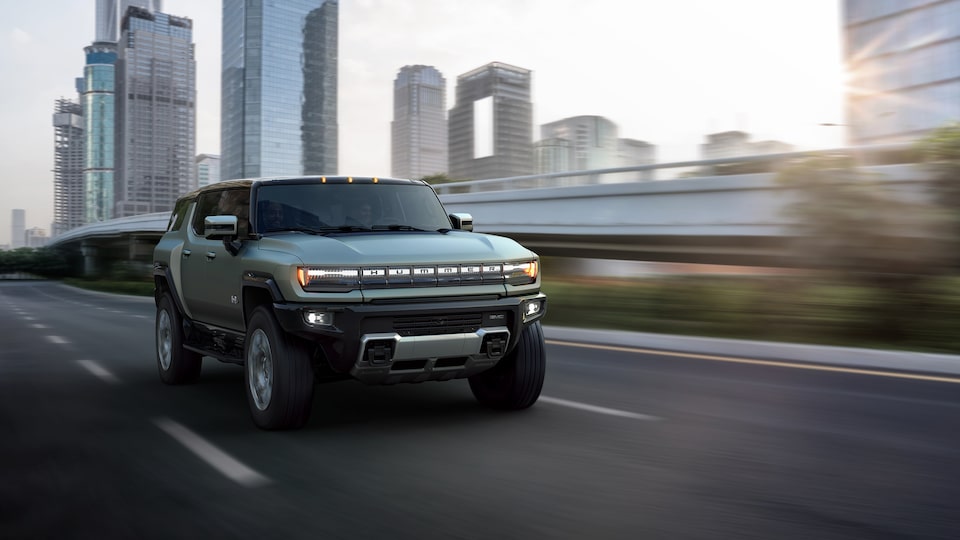 DYNAMIC SUSPENSION
Available Adaptive Air Suspension§ automatically adjusts HUMMER EV's ride height for different conditions - lower for better aerodynamics and easier entry and exit and up to 2" for improved ground clearance. And available Continuous Damping Adaptive Ride Control responds to on-road inputs by adjusting damping levels seamlessly for enhanced ride dynamics, and when off-road, it adjusts damping levels based on shock travel to unlock additional refinements.

---
---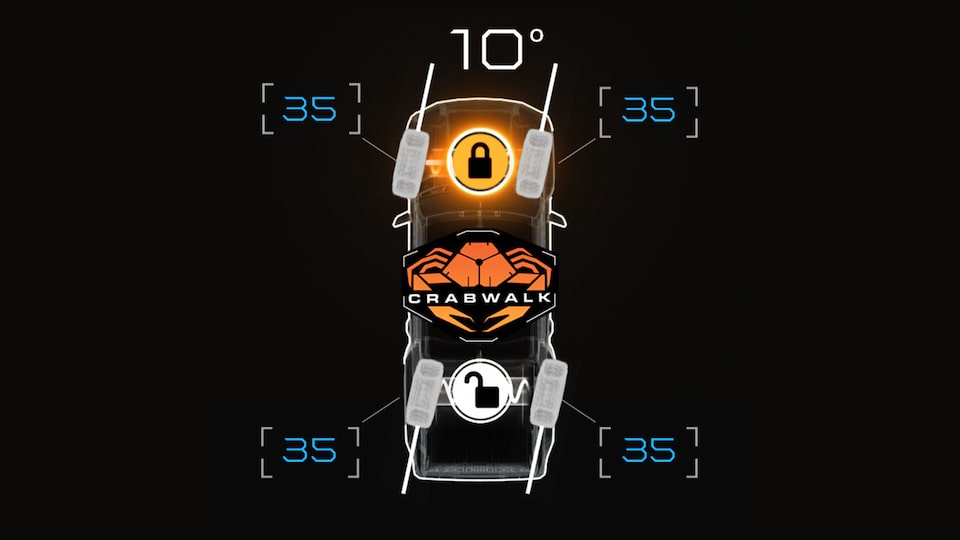 4-WHEEL STEERING
HUMMER EV is engineered to command precision in every driving situation. Available 4-wheel steering§ helps reduce turning radius and enables nimble maneuverability, similar to a compact sedan, whether changing lanes on the highway rock crawling on the trail or pulling into a parking spot. And the already tight turning radius of the pickup is tightened further with the shorter wheelbase of HUMMER EV SUV- by approx. 9"-enabling off-road maneuvers in close quarters.

---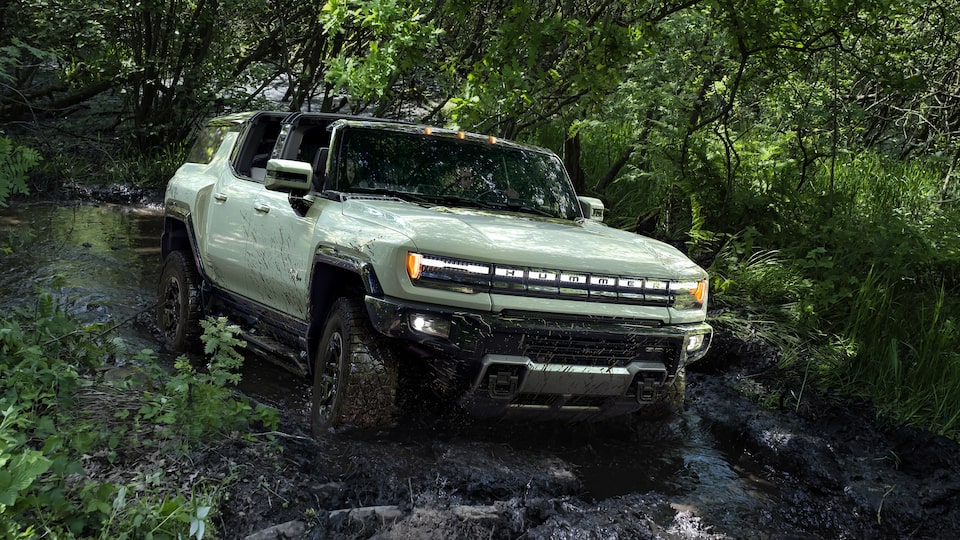 EXTREME OFF-ROAD CAPABILITY
Off-road dominance is engineered into every aspect of HUMMER EV. Standard independent front and rear suspensions enable remarkable off-pavement handling and highway comfort, while available front e-lockers and virtual rear lockers§ optimize traction. Also, available heavy-duty ball-spline half shafts§ help maximize articulation and reduce steering feedback during hard cornering and off-roading. As a supertruck built for off-road dominance, both pickup and SUV are engineered with approach, departure and breakover angles (see off-road specs below) that will make competitors envious.

---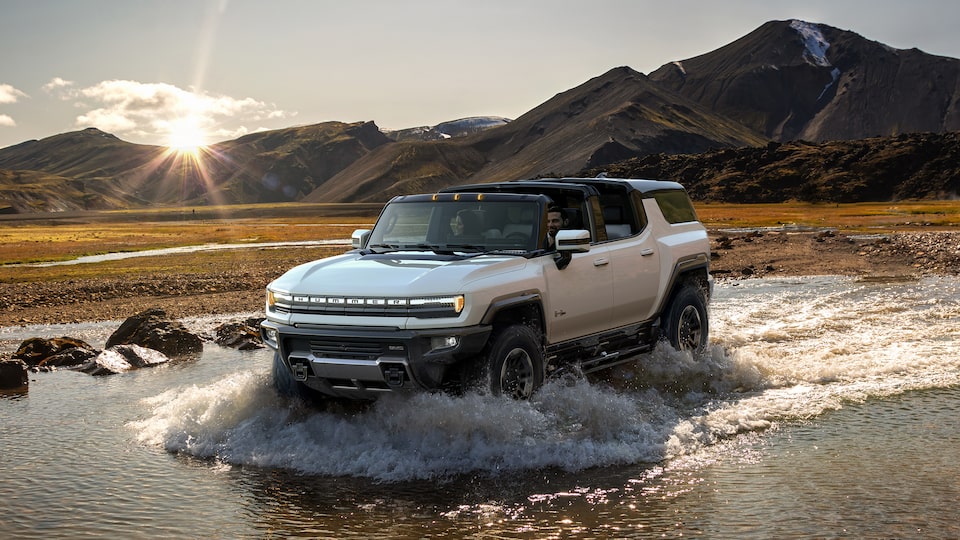 ---
EXPLORE OFF-ROAD METRICS
OFF-ROAD SPECS - STANDARD ON U.S. EDITION 1, EV3X AND EV2X

---
Ground Clearance - 302 mm

Approach Angle - 44.3°

Departure Angle - 33.7°

Breakover Angle - 25.4°

Water Fording - 711mm

Wall Climb - 457mm

Front Suspension Travel - 330mm

Rear Suspension Travel - 330mm

---
For greater off-road mastery rise above it. Available Terrain Mode gives you 2 inches of additional lift (over 50 mm). Initiate Available Extract Mode for an additional 4 inches above that (over 100 mm). That's 6 total inches (over 150 mm) of rock drying capability§.

---
IMMERSIVE

---
INFINITY ROOF WITH MODULAR SKY PANELS

This is what zero limits looks like. The industry-leading Infinity Roof and available Transparent Sky Panels create an immersive open-air experience. Let the world in by removing the four panels and the front I-Bar and lowering the power Rear Drop Glass.


---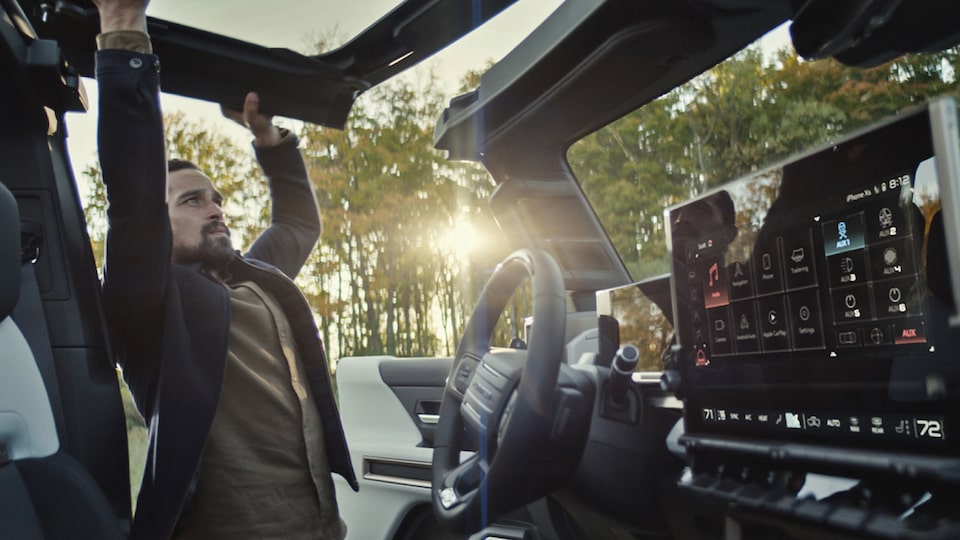 TRANSPARENT SKY PANELS
Touch the sky without even removing the modular panels with the Transparent Sky Panels. They're tinted to deflect the sun and to help protect you from the elements while providing breathtaking panoramic views§.

---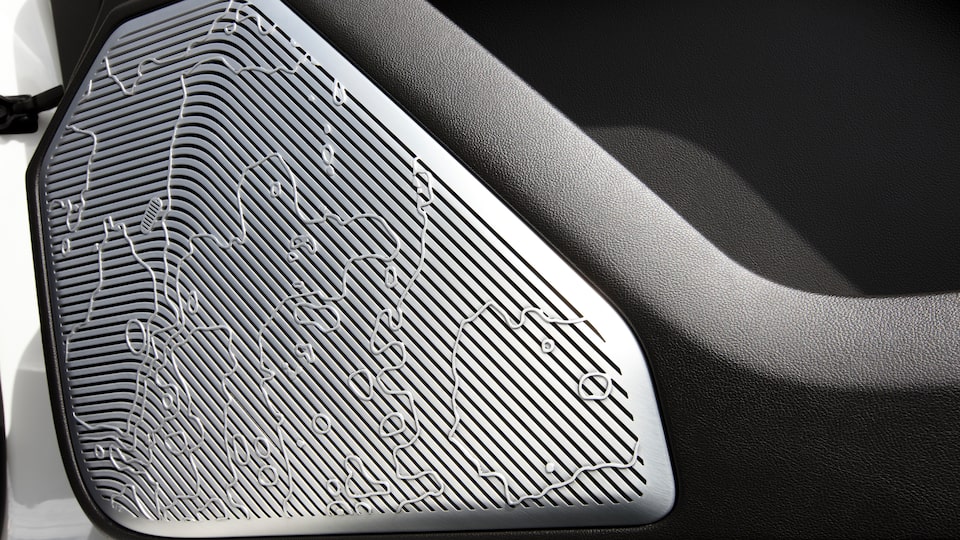 BOSE® AUDIO SYSTEM
The Bose 14-speaker audio system featuring Centerpoint® with the Electric Vehicle Sound Enhancement (EVSE) system creates a multisensory experience designed specifically for the HUMMER EV cabin.

---
NOT FAST. SUPERFAST.

---
GMC HUMMER EV is powered by Ultium drive units with a two-or three-motor e4WD system (2 motor standard on EV2 & EV2x models; 3 motor standard on EV3x & U.S. Edition 1 models).
Choose the three-motor and zero limits feels like 1,000 horsepower§ and the thrill of accelerating 0 to 100 KM in approximately 3 seconds. §

---
---
AVAILABLE WATTS TO FREEDOM

§
Available 0 TO 100 KM times:

- APPROX. 3 SECONDS PICKUP OR 3.5 SECONDS SUV§
- UP TO 11,500 LB. FT. / 15,591 NM TORQUE§
- UP TO 1,000 HP PICKUP OR 830 HP SUV§
- LOWERS VEHICLE 2" FOR ENHANCED CENTER OF GRAVITY AND PRODUCES INTERIOR MULTI-SENSORY EXPERIENCE.

---
NEXT-LEVEL TECH & DESIGN

---
It may be quiet, but HUMMER EV's revolutionary technologies and unmistakable design speak loudly.

GREAT INDOORS


---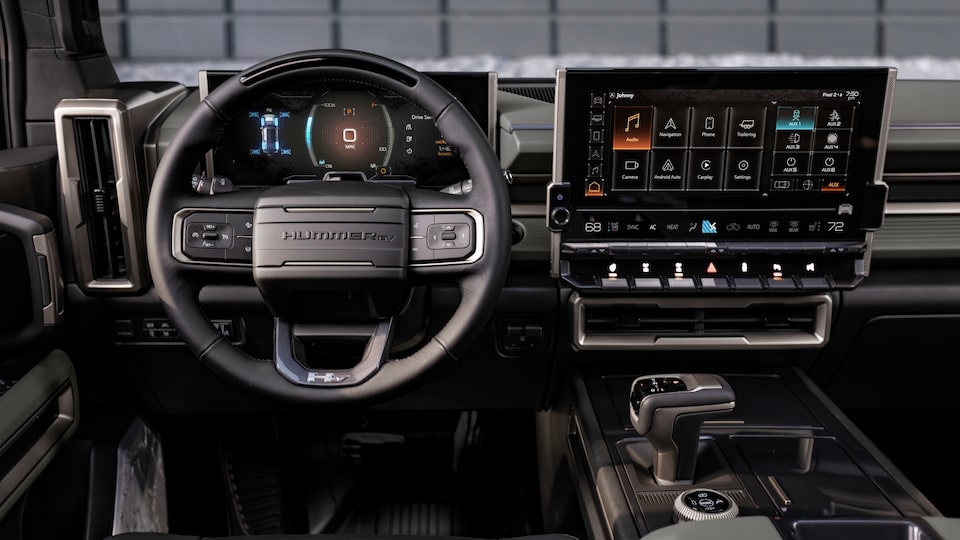 HIGH-DEF SCREENS

The 12.3" diagonal color Driver Information Center display and the center-mounted 13.4" diagonal color touch-screen position put customizable data, settings and controls within the driver's convenient reach and optimal line of sight.

---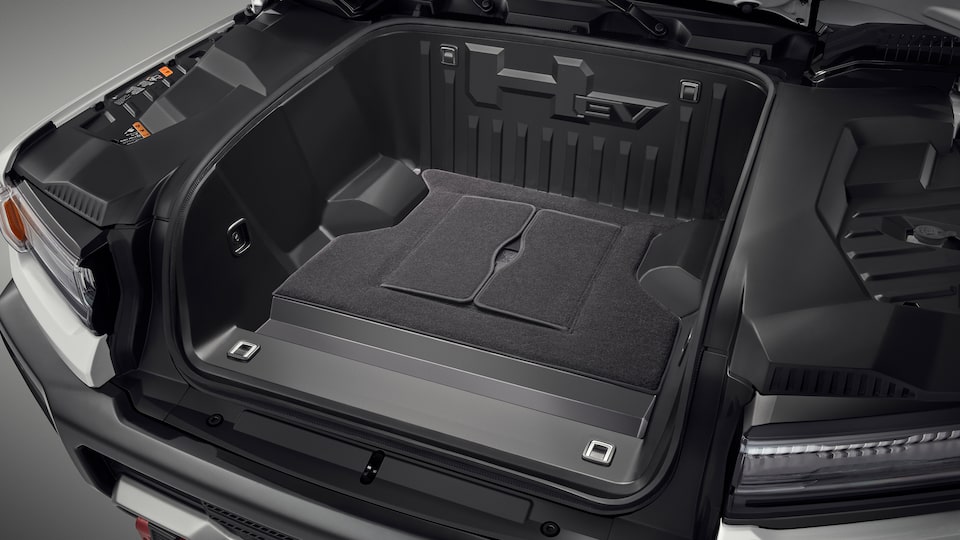 POWER FRUNK

Stow the modular Sky Panels in the power frunk as well as other gear.

---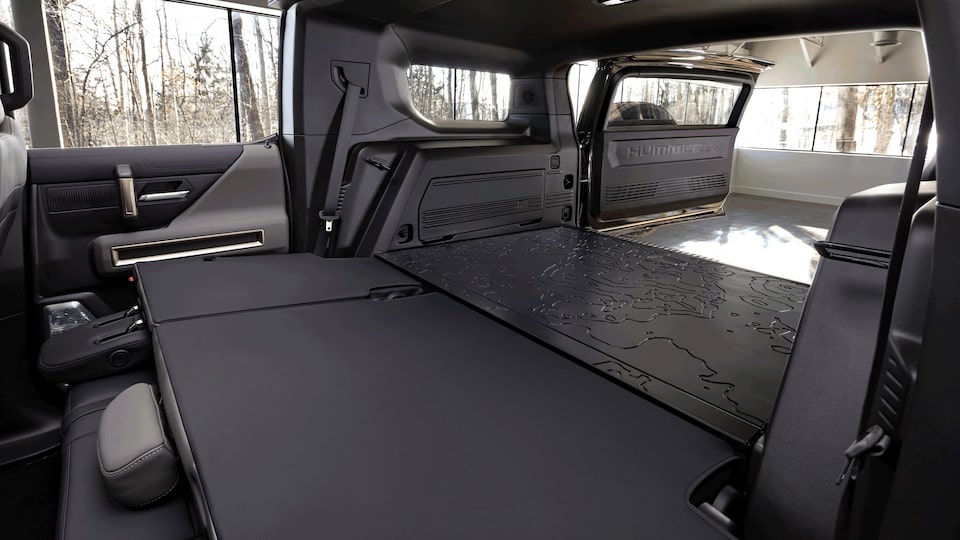 SUV STORAGE

HUMMER EV SUV's cavernous cargo area includes rear flat-folding seats, underfloor concealed storage and a secure carrier for the Infinity Roof's front I-Bar. There's a large storage compartment on the driver's side, cargo tie downs and a 230 Volt power outlet. And the recycled rubber floor the Sea of Tranquility design pattern seen throughout.

---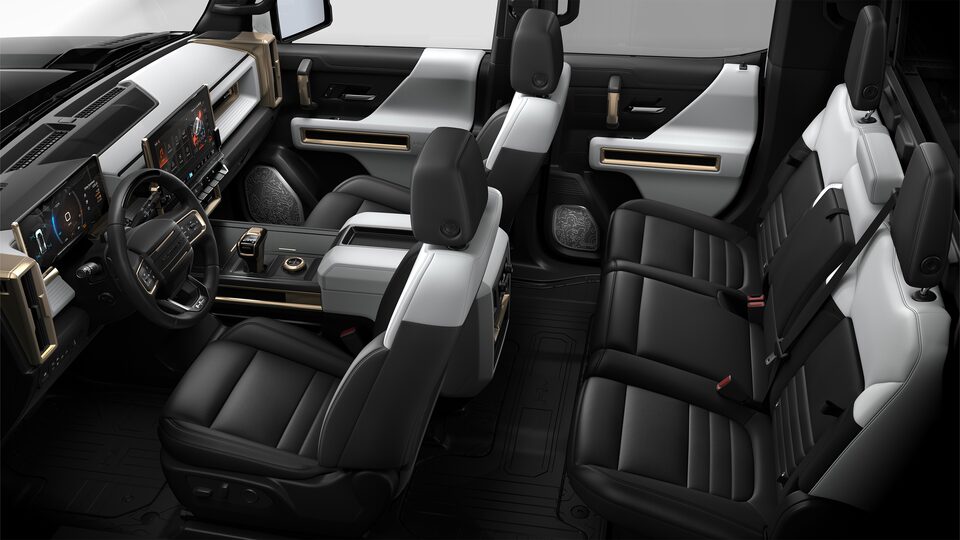 LUXURY INTERIOR

Like everything HUMMER EV, its cabin was designed with a unique combination of innovation and convenience. So no matter how rugged the great outdoors get, inside HUMMER EV, you'll be in control of every moment.

---
REVOLUTIONARY DESIGN

---
HUMMER EV pickup and SUV design elements are infused with shared cues, from distinctive signature lighting, a low-turret roof profile and an upright windshield, to their unique taillamps§.

ROCK SLIDERS AND SKID PLATES

---
On and off the road, durable available steel sliders and skid plates§ help offer protection from debris, and they look good doing it.


---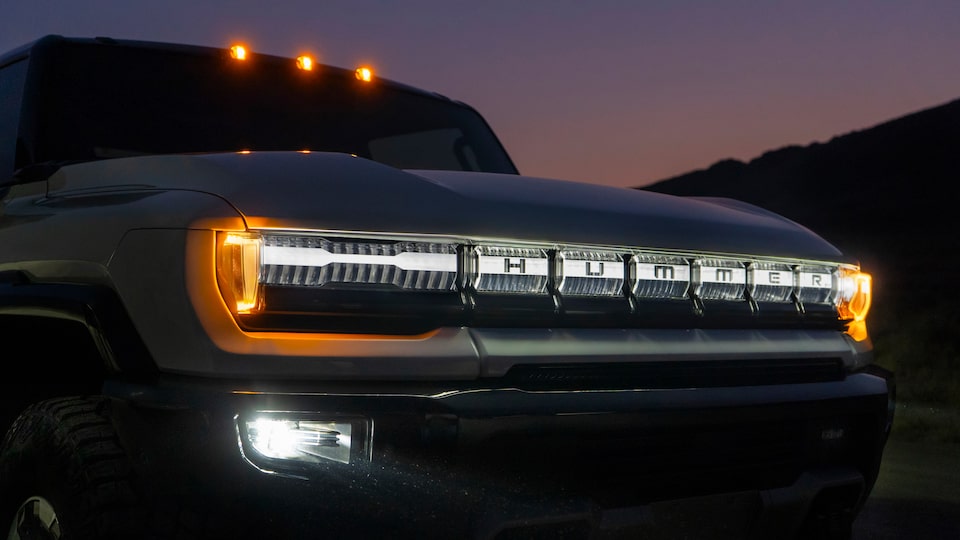 STATE-OF-THE-ART LIGHTING

The personality of HUMMER EV comes alive with expressive lighting and animation as you walk to or away from your vehicle, and while the HUMMER EV is charging.

---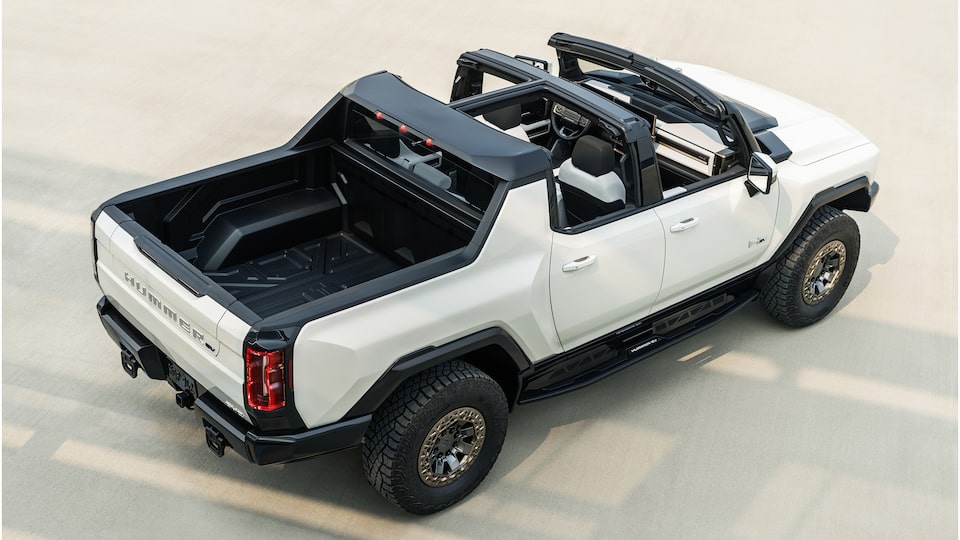 REAR DROP GLASS

Along with the available Transparent Sky Panels, the Power Rear Drop Glass brings the outside into the HUMMER EV cabin with the touch of a button.

---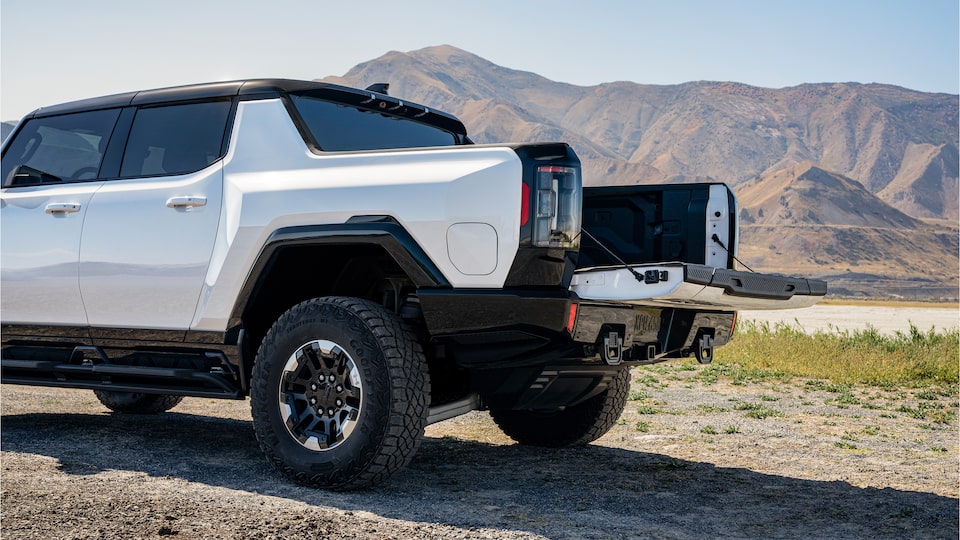 ---
MULTIPROTM TAILGATE-PICKUP
The MultiPro Tailgate, standard on the HUMMER EV PICKUP, helps improve accessing, loading and unloading the cargo bed.

---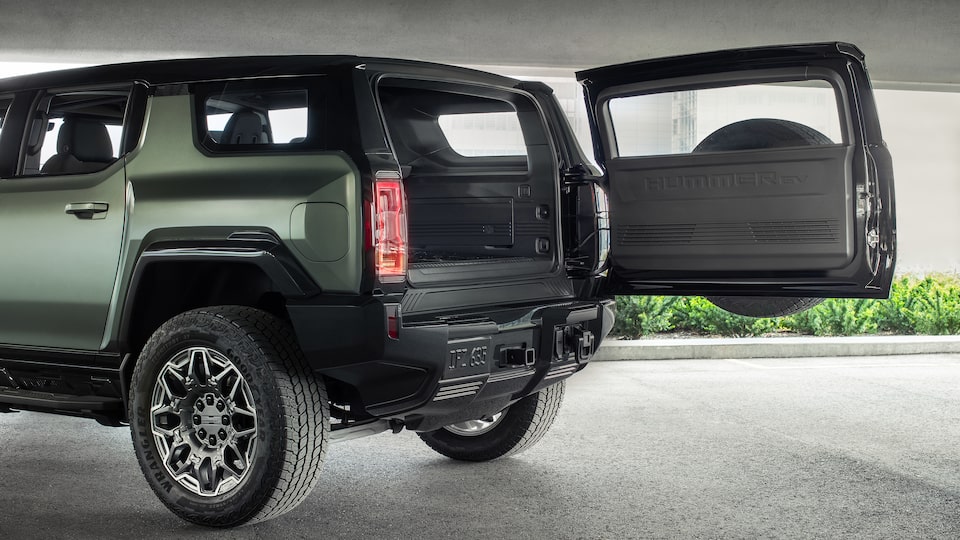 ---
POWER SWING GATE-SUV
WITH REAR-MOUNTED SPARE TIRE

The swing gate opens on the left and the rear drop glass opens for easy driver access and ample room to secure and conceal gear with underfloor storage.

---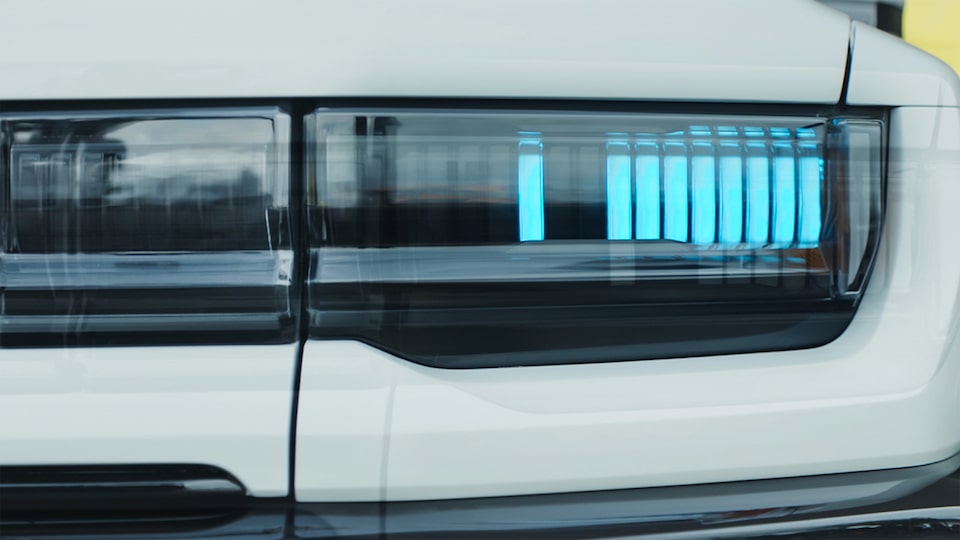 ---
NEXT-GEN ELECTRIC  

A LEADER IN CHARGING EFFICIENCY WITH ULTIUM BATTERY 

UP TO 350KW

§

800V DC FAST CHARGING ON PICKUP, UP TO 300KW

§

SUV
AVAILABLE CHARGING UP TO 160+ KM IN 10 MINUTES

§

on PICKUP
GM Estimated available driving range 560 KM

§

-TRUCK
GM Estimated available driving range 482KM

§

-SUV
---
---