---
HUMMER EV

OWNER RESOURCES
---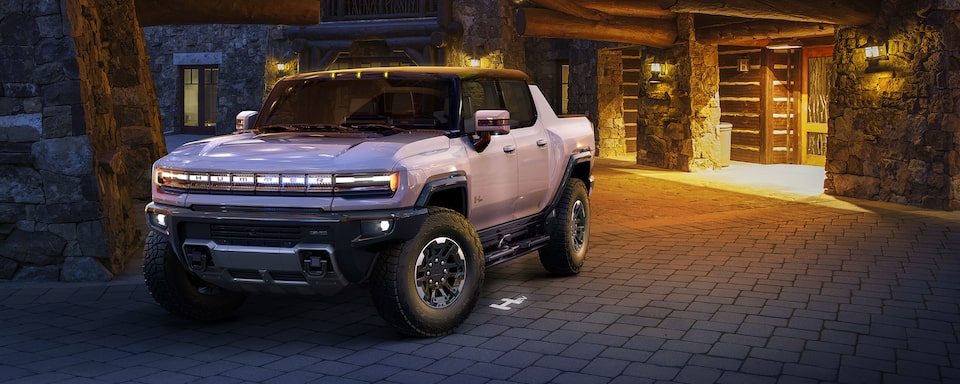 ---
GMC HUMMER EV: DECLASSIFIED

Your GMC HUMMER EV Pickup is revolutionary. These videos explain what you need to know about using the features and capabilities that have earned it supertruck status.
---
CAPABILITY
---
---
TERRAIN MODE
Terrain Mode provides enhanced off-roading control while you're off-roading at low speeds like rock crawling.
---
ULTRAVISION WITH UNDERBODY CAMERAS 
Available UltraVision§ with forward-facing and rearward-facing underbody cameras, allows you to choose up to 18 separate available camera views to help navigate difficult terrain in your GMC HUMMER EV Pickup.
---
4-WHEEL STEER WITH CRABWALK 

Available 4-Wheel Steer also provides the maneuvering flexibility of CrabWalkTM§ — a revolutionary available setting that allows the rear wheels to turn in the same direction as the front, up to 10 degrees in either direction—to drive diagonally at low speeds.
---
AIR RIDE ADAPTIVE SUSPENSION 
Available Air Ride Adaptive Suspension allows you to adjust your GMC HUMMER EV Pickup's ride height in a range of levels.
---
WATTS TO FREEDOM 
Watts to Freedom§ is the available feature that enables peak horsepower and torque to help propel GMC HUMMER EV Pickup Edition 1 from 0-100 KPH in a GM-estimated 3 seconds.
---
TECHNOLOGY
---
---
GOOGLE BUILT-IN COMPATIBILITY 

Google built-in§ is a helpful, personalized and seamless way to enhance your in-vehicle experience. With Google Assistant, Google Maps, and Google Play you get access to hands-free help, live traffic updates, navigate or locate charging stations, some of your favorite apps and more.
---
ONE-PEDAL DRIVING 

One-Pedal Driving§ in the GMC HUMMER EV Pickup allows you to control acceleration and deceleration with just the accelerator.
---
CHARGING 
---
---
IN-VEHICLE ENERGY APP
Control the best time and place to power up with the in-vehicle Energy App and its convenient charging schedule, real-time charging status and energy usage and more.
---
CHARGE AT HOME 
Ensure your GMC HUMMER EV Pickup is charged up by using the in-vehicle Energy App which allows you to set a home charging schedule to take advantage of overnight, off-peak charging hours and be ready for the day ahead.
---
MOBILE APP myGMC 
The available myGMC mobile app§ allows you to control the charging of your GMC HUMMER EV Pickup right from your smartphone.
---
PERSONALIZATION 

---
---
DRIVE MODES 
Select from five drive modes to tailor the GMC HUMMER EV Pickup's driving characteristics.
---
PROGRAMMING MY MODE 
The GMC HUMMER EV Pickup lets you personalize your driving experience by choosing My Mode to adjust steering, suspension, acceleration and motor sounds to your liking.
---
DRIVER INFORMATION CUSTOMIZATION 

The Driver Information Center in the GMC HUMMER EV Pickup can be customized to provide you with a personalized driving experience.
---
AUXILIARY SWITCHES
Customize up to six Auxiliary Switch buttons on the GMC HUMMER EV Pickup's touch-screen display.
---
IMMERSIVE 

---
---
INFINITY ROOF

§
Easily remove the Infinity Roof's Modular Sky Panels, as well as the i-bar, to create a fully immersive experience in the GMC HUMMER EV Pickup.
---